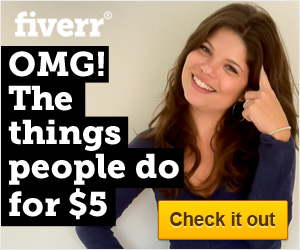 Have you ever heard of Fiverr? It's a site where people offer a variety of services all for $5. What kind of services, you ask? Here are a few examples I found on a quick search:
See this lady? She'll edit your cover letter for just $5. If it seems to good to be true, notice that 10 people have provided reviews, giving her a 100% positive rating. She has a college degree and is a writer by trade.
Here's one review she received:
Amazing! You pointed out things I hadn't even thought of; my cover letter now looks completely different! Great formatting and content suggestions. My letter really stuck out, made my prospective employer laugh, and got me an interview this week already! Thanks so much Delaney.
Seems to me it definitely could not hurt to have her review your cover letter for $5!
Fiverr seems like a really good option if you need some graphic design work done such as a simple web banner, business cards, or promotional mailer. I found one service provider who received a 100% positive rating after 30 reviews. This particular guy has been a professional designer since 2002 and has an average 3-day turnaround.
Even though you're only spending $5, I love the reassurance you get from the service providers' descriptions as well as the reviews from other people.
While you can get services that are useful for your business or home, you can also find folks that are willing to do some… bizarre things for $5. The guy above? Hire him to prank your friend and he'll be the secret admirer they never wanted! He was actually seen on Tosh.O… and yup, he'll only charge you $5 for this service!
Here's an idea for your boss' birthday. Skip the greeting card and instead spend about the same amount and have this dude give them a singing telegram with his accordion!
Of course, these are just a few of the thousands of people you'll find Fiverr willing to do practical, helpful, bizarre, and funny things all for just $5! Make sure to check out Fiverr the next time you need someone to look over your resume, some graphic or SEO work for your website, or a great prank for your coworker.
If you've used Fiverr before, I'd love to hear what you used it for and what your experience was!